How to: Set up a Hybrid event
Do you want to start hosting events at venues again but live stream them to a larger online audience simultaneously? We have the perfect solution for your event!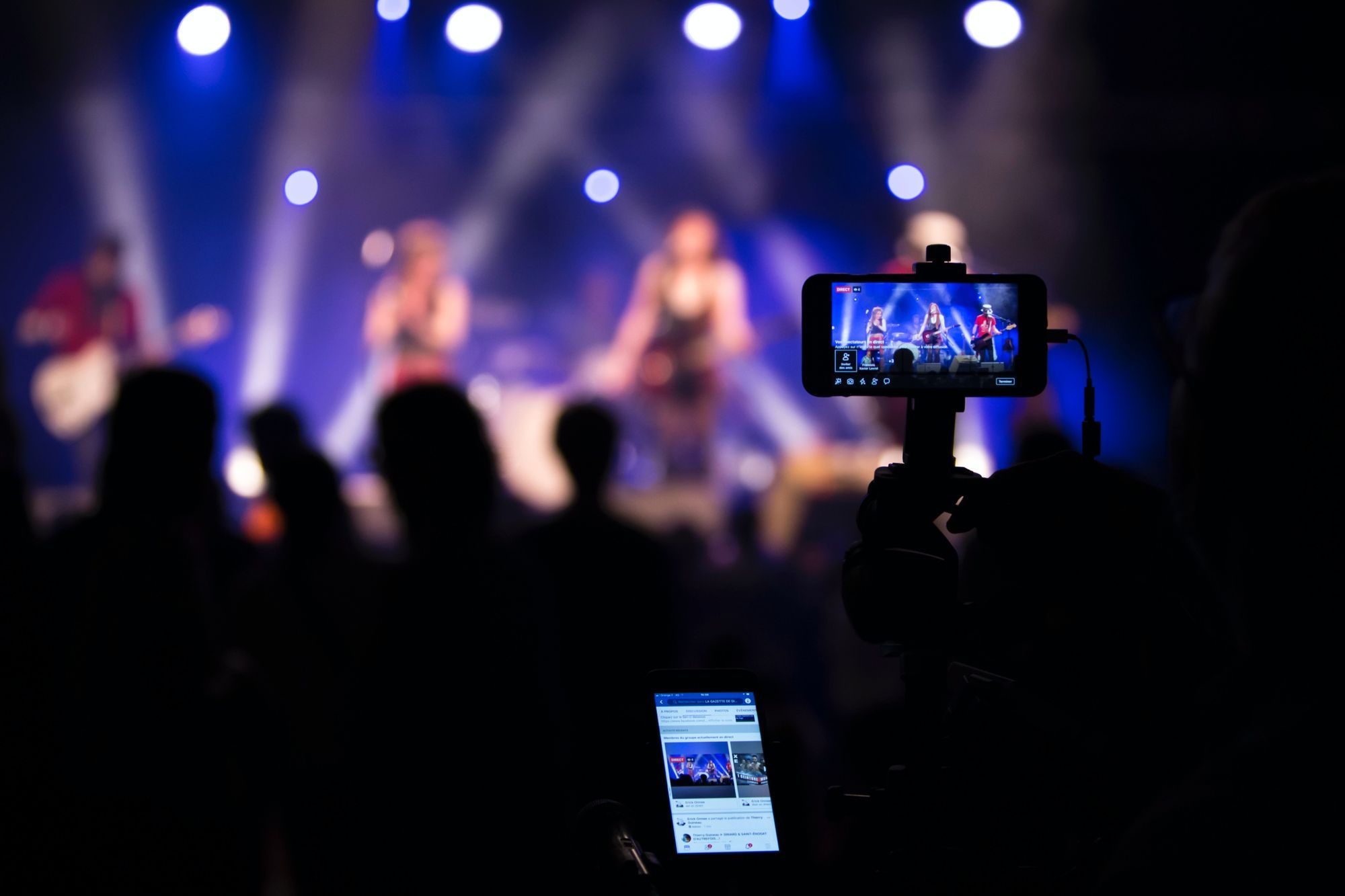 Times have been tough for the events industry this year. But if there's anything we've learnt, it's that people still need entertainment and the events industry will always evolve to fulfil that need. We've seen a rise in online events and live streams, keeping us occupied in the comfort of our own homes.
However, when live events return we know there will two types of audiences; people desperate to attend an event "IRL" or people who won't feel as comfortable being at a public event, preferring to watch from home.
But how can you combine these two audiences...?
Introducing Hybrid events on Citizen Ticket!
What is it?

Hybrid event ticketing is a new feature on our platform, ensuring your customers can attend your events in whichever way they feel comfortable.
Combining our standard event ticketing system and our newly established live stream functionality, you can sell tickets to your venue and virtual offering simultaneously.
Why should I use it?

Onsite attendance may be reduced when live events return, we know any drop in attendance can be the difference between an event being sustainable and unsustainable.
Our Hybrid technology will allow events to bolster reduced onsite attendance with a larger virtual audience, ensuring events remain sustainable.  
Are there any additional benefits?

Yes, event attendance is no longer limited by location, your fans can attend your events online from anywhere globally.
Your event capacity is also no longer limited by the venue, increase your online capacity to match your event popularity.
Additionally, your audience will never miss a show with the "Watch Again" functionality enabled, allowing them to watch the live stream after the event (watch out for our upcoming blog on "Watch Again" for live stream events).
How do I do it?
To create a hybrid event, navigate to your organiser dashboard, click "Create event" and complete the 5 event dashboard panels when prompted.
Location
When setting your location, select the "Hybrid (venue + livestream)" from the options under "Add new". Add in the details of your physical venue (i.e. name, address, city etc.) and decide when you'd like the live stream audience to have access to the event (up to 30 minutes before the event). Save the location by clicking "Add location".
Setting your location type to hybrid will allow you to create live stream tickets, in addition to general admission in the "Tickets" panel on your event dashboard (and the "Livestream Studio" panel for live stream settings).
Tickets
You will need to set up two ticket types, a general admission ticket for your venue attendees and a live stream ticket for your attendees viewing from home.
Click on the "Tickets" panel on your event dashboard. Before adding your first ticket type, please choose how would you like to manage your ticket quantities (either Basic or Automatic).
To create a general admission ticket, add your ticket type title (e.g. GA Standing, GA Seating etc.), price and the quantity availability (venue capacity). Use the advanced options for any further settings you want to apply your tickets to (e.g. ticket description, non-refundable tickets, ticket sales activation, ticket purchase limits etc.).
Don't forget to click "Add ticket" to save your ticket type.
To create a live stream ticket, repeat the same steps as before (click "Add another?" or "Add ticket type" on the main Ticket page) and select the checkbox under "Livestream Access".
To see more information on creating tickets, please click here for guides on our CT organiser knowledge base.
Livestream Studio
Our new live stream settings feature, the "Livestream Studio", is your control panel to set up and stream your event on Citizen Ticket.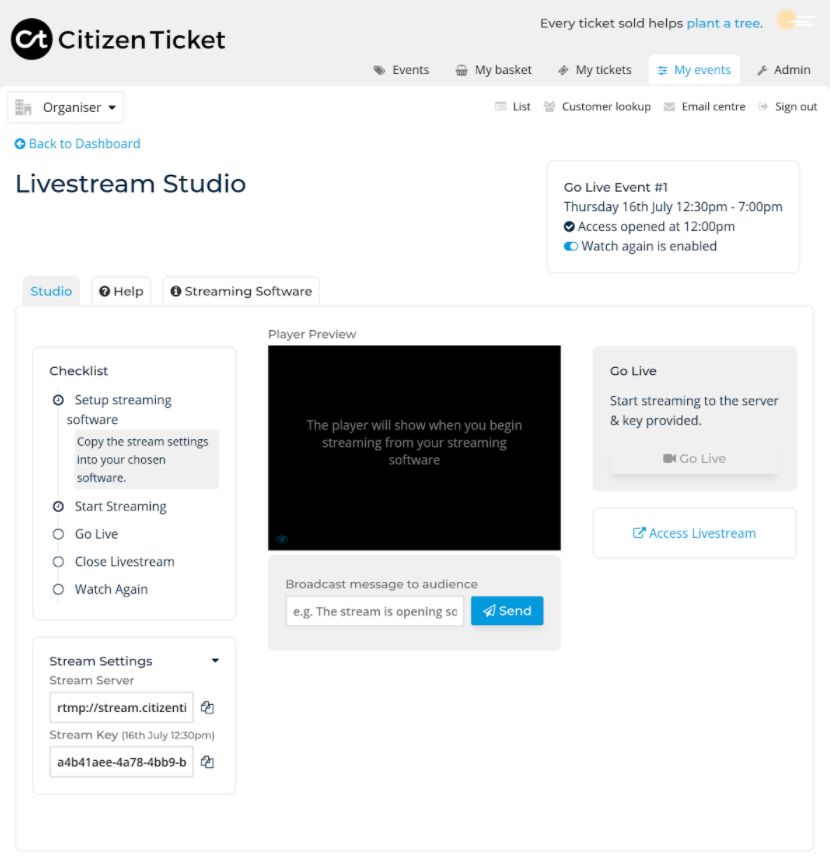 See the organiser FAQs below for more guides on the "Livestream Studio".
Start selling tickets to your online event by clicking here.
Let us know what you think via our short survey, or by contacting us on info@citizenticket.co.uk
---
Organiser FAQs
For guides relevant to creating your live stream/hybrid event with Citizen Ticket please explore the links below;
Location
Tickets
Livestream Studio
Additional Tips