Introducing our new tiered Pricing Plans
A pricing plan that is right for your events, to get the most out of our platform.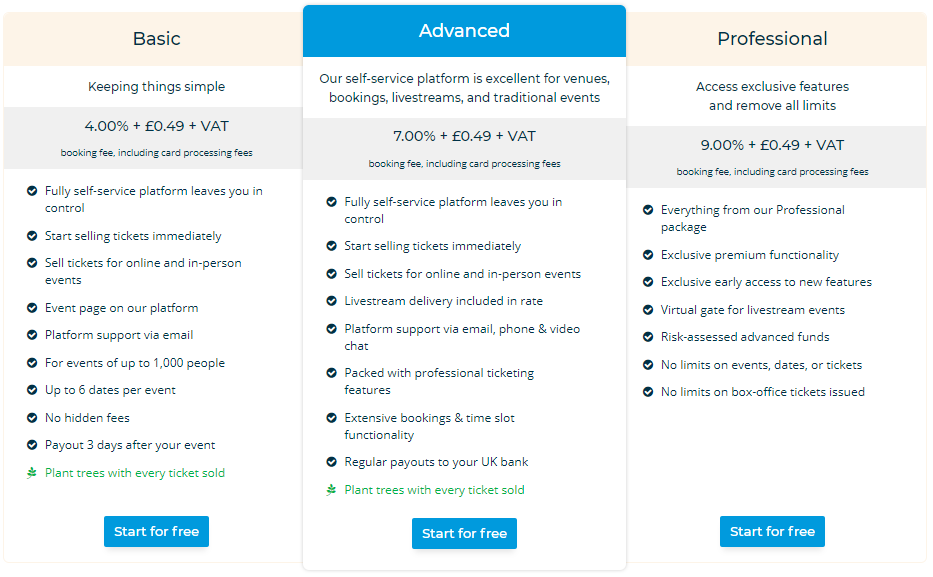 We're always looking for ways to help you get the most out of Citizen Ticket, that is why we're excited to launch our new tiered Pricing Plans! 🎉
We're introducing Basic, Advanced and Professional pricing tiers tailored to different levels of event complexity.
If you require a more bespoke package, we also have our Enterprise plan, that can be tailored to your business-specific requirements.
Let's take a quick look at them...
The Basic plan
The Basic plan is keeping things simple. It has everything you need to set up events of up to 1,000 people on Citizen Ticket and start selling tickets immediately.
We recommend the Basic plan for events like Life Drawing Workshops or small community events.
The Advanced plan
You might need more from our platform to best excel your events and your customer service offering.
This plan is equipped with live stream ticketing functionality, additional platform support and access to extensive booking and time slot features.
We recommend the Advanced plan for large bookings events, for example visitor attractions. Alternatively, this plan is perfect for large live streaming events, like a virtual comedy show with up to 2,000 viewers.
The Professional plan
The Professional plan gives you access to all our exclusive features and removes all limits; giving you the full benefits of our self-serving platform.
This plan will allow you to live stream shows to an unlimited audience, create bookings systems for visitor attractions or run large scale live events.
Plus, you'll get early access to new platform features, making you ahead of the curve.
We recommend the Professional plan for events with 10,000+ attendees, for example, a live music event, multi-day festival or a large outdoor illuminated trail event.
The Enterprise plan
For large event operations we're happy to have a chat to work together and build a plan specific to your business needs.
Take your pick
You can compare all our plans here to ensure you pick the right plan for your business.
Once you've found the right one, you can start your new plan for free.
Changed your mind? It's easy for you to change your pricing plan in your organiser dashboard (just head to 'My events' and click the 'Feature plan' tab).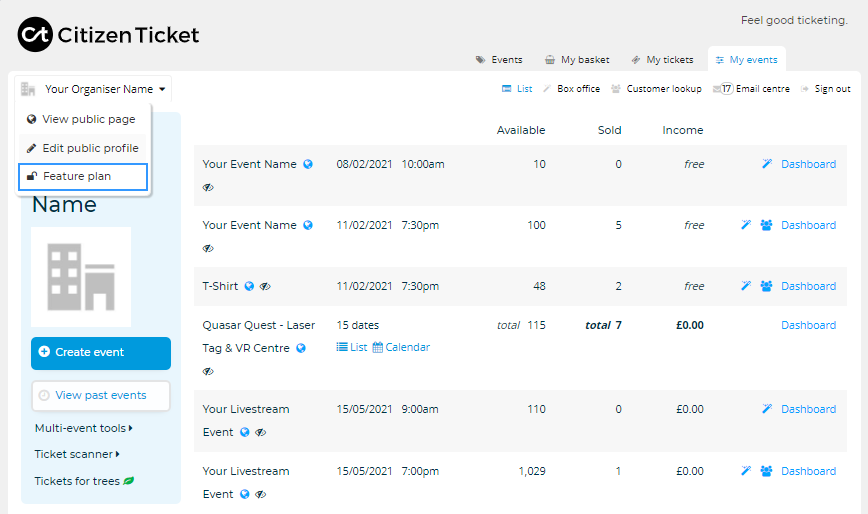 This means you can upgrade your plan anytime you want. You have the flexibility to make our platform work for you.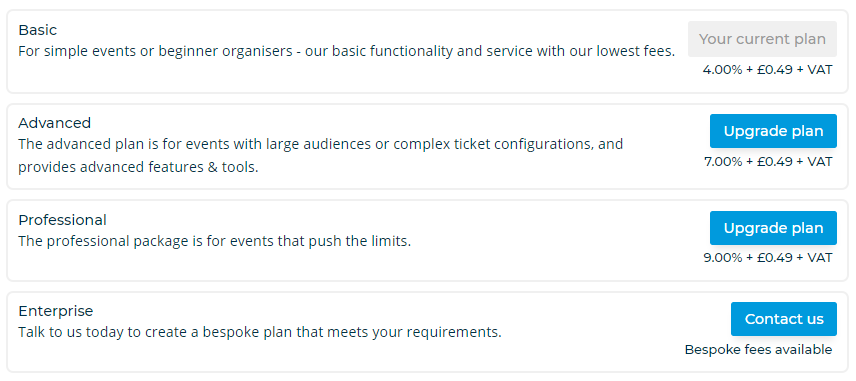 So whether you are running a small community event or planning a large scale multi-date event, we can tailor our service to you!
Finding it hard to pick a plan? Let us know here and we'll help you out.
Don't forget, each ticket sold on Citizen Ticket helps plant a tree!