How to: Use the Ticket Exchange Tool
A customer can't make their original booking? An event date is cancelled? Not a problem! Find out how customers can effortlessly exchange their ticket in a few simple steps.
In these unprecedented times, it has become essential to offer flexibility when customers are booking tickets.
We don't want anyone to miss out. Luckily at Citizen Ticket both the customer and you can exchange tickets with ease.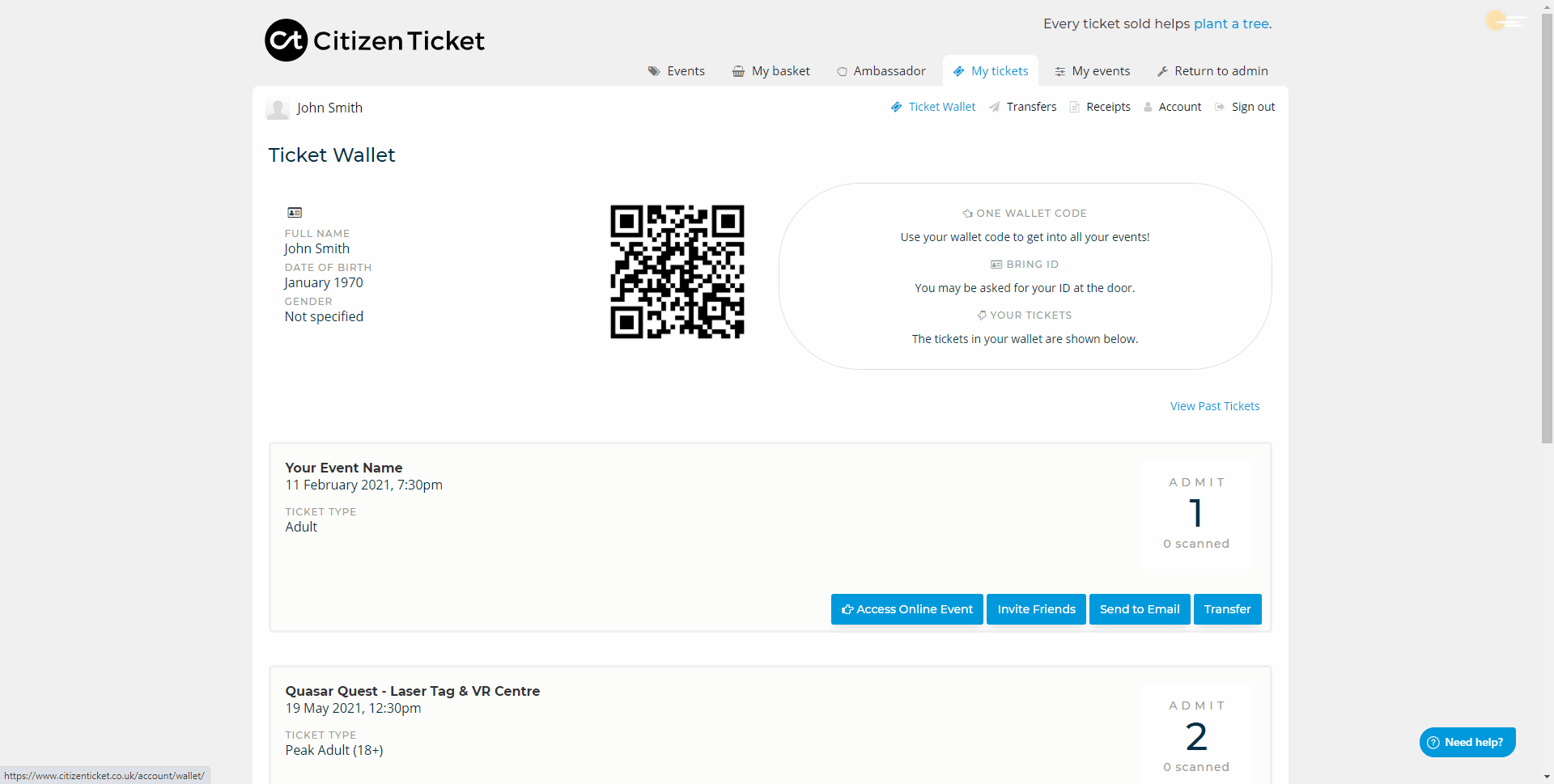 Before we get going, make sure your event has the "Timeslots exchangeable" checkbox selected in "Timeslots". To find out how to set this up click here.
How do customers exchange their tickets?

Customers can use the Ticket Exchange tool to amend their tickets without your help.
If their plans change at the last minute or the date if forced to cancel, then they can have peace of mind knowing they can amend their own tickets in their own time.
Once a customer is logged into their Citizen Ticket account, they can view their tickets by selecting "My tickets" to view their "Ticket Wallet".
Here they'll find their purchased tickets and can select "Exchange" on the ticket(s) they wish to swap to an alternative date or session.
The customer will then be able to view the ticket(s) eligible for exchange.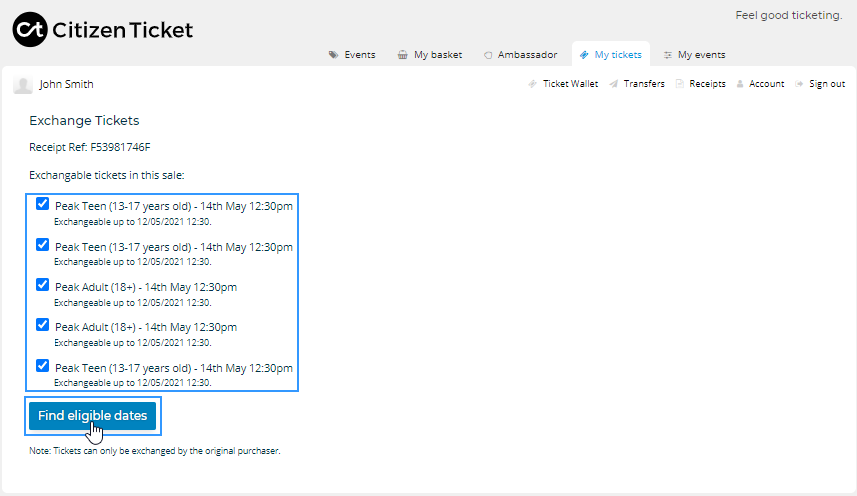 Once they have selected "Find eligible dates", the customer will be able to select an alternative date/session to swap their ticket(s) to and choose how many they wish to exchange.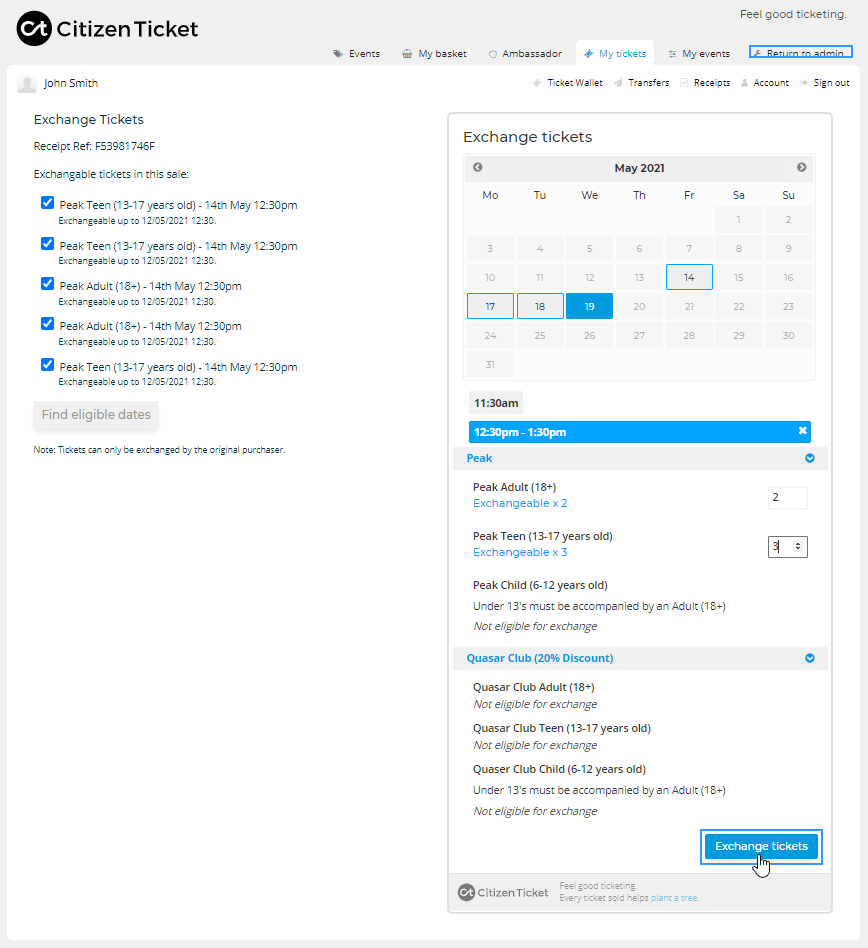 The customer will complete the exchange by clicking "Exchange tickets".


Then just like that, the customer's ticket(s) have been transferred to their preferred date/session, meaning they will still be able to attend your event 🎉
They'll even be able to view their updated ticket(s) in their "Ticket Wallet" straight away.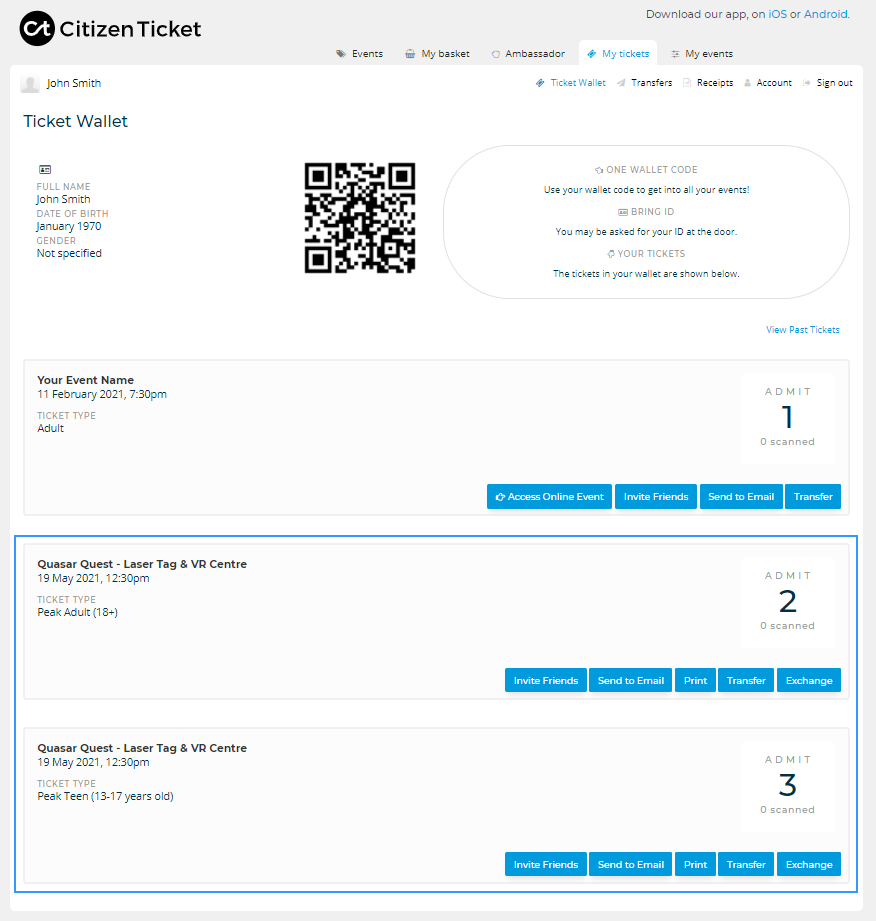 Can I exchange a customer's ticket?
Yes! It's just as quick and convenient for you to exchange a customer's ticket on their behalf.
To find the customer, log into your Citizen Ticket account and head to "My events".
Select "Customer lookup".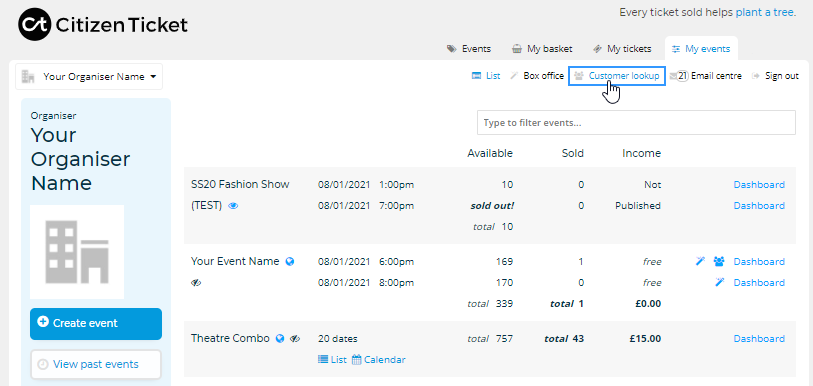 Search the customer's name and once you've found them select "View".

You will then find the customer's ticket for your event. Open the customer's ticket and select the "Tickets Exchange" tab.

Then just like the customer, you'll be able to look for eligible dates/sessions and complete the exchange.
Missed event crisis averted!
Note: Tickets can only be exchanged by the original purchaser.
Take a look to see if your event is ready for simple Ticket Exchanges.
Got a question? Ask away here or email us at info@citizenticket.co.uk