Your Box Office
Our Box Office suite is your hub for selling tickets for your events on-site.
A good Box Office is the beating heart of any successful event.
It's the hub where you sell tickets, either online, over the phone* or on-site, BUT there are some pretty special things about a Citizen Ticket Box Office. Want to know? Of course you do!
As an event organiser you have access to your own Box Office, which can be found in your organiser Dashboard (or your event dashboard - Sales & Income > "Box Office").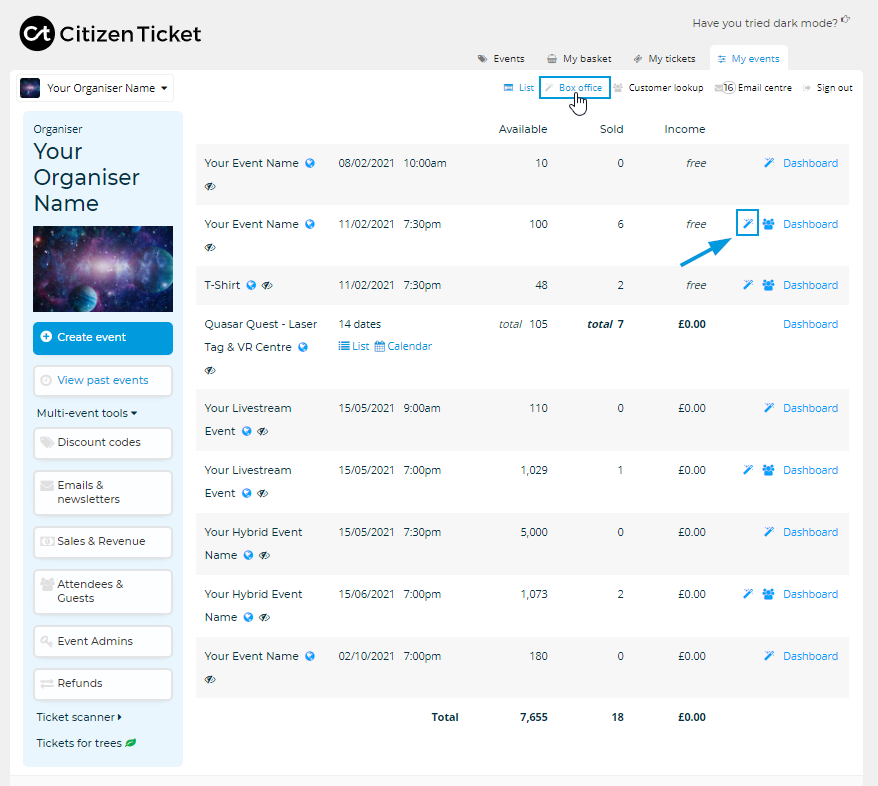 You will then be asked if the customer is an existing Citizen Ticket member or a new customer. Either one is fine! If they are a new customer you'll just need to put in the email address they would like their ticket sent to.
Next, you need to add the type and quantity of tickets the customer wishes to purchase. When ready, just click "Add to customer's basket".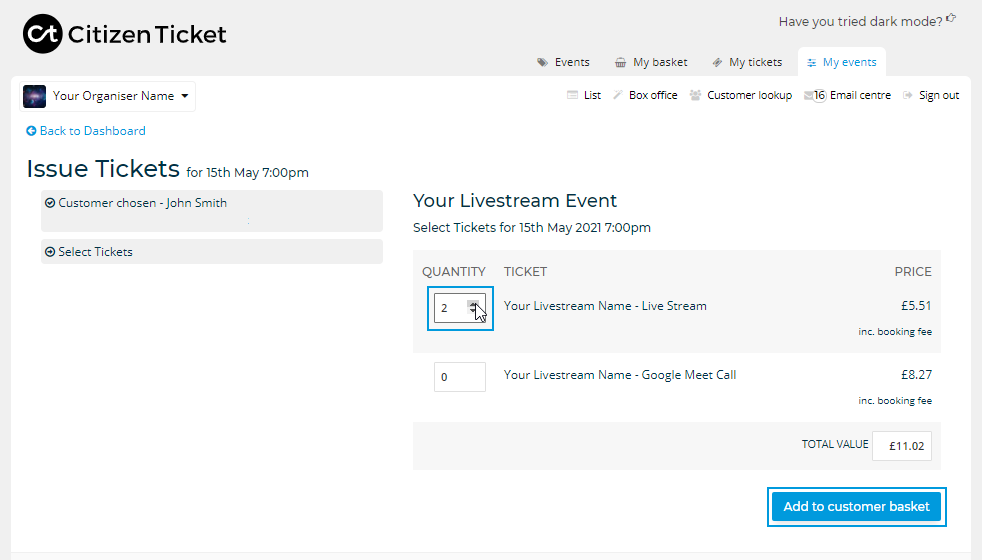 You're then in the checkout stage. Here you'll process which payment type the customer wishes to make, with a cash option for an onsite Box Office.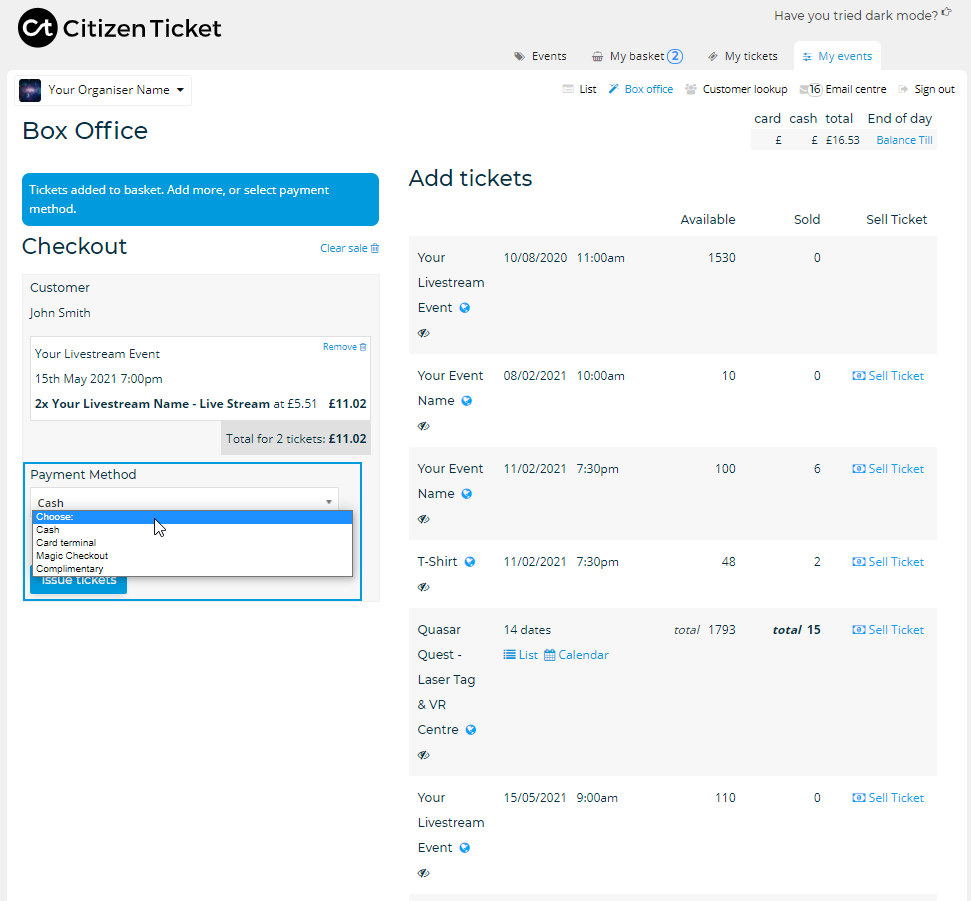 Once you've inputted all the relevant details and the payment has gone through, you have just issued a ticket to a customer 🙌
Magic Checkout
You may have asked yourself, "What is Magic Checkout"?
Magic checkout allows you can send a pre-filled basket from the Box Office straight to a customer's device by text or email. Then that's everything done on your side of things!
The customer to complete the payment process themselves, giving them 10 minutes to complete the purchase after they open the link.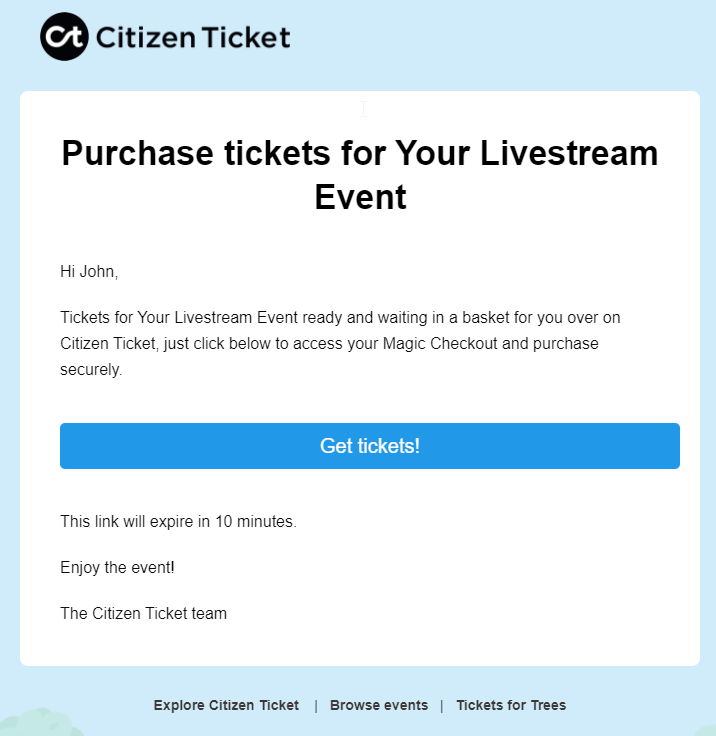 This saves time by cutting out the payment process at the Box Office if is busy. It can also be helpful for those who don't feel comfortable sharing their payment details over the phone.
It's a unique customer service offering you can provide to enhance a customer's experience!
Add-ons
Our box office also permits you can help the customer even further, by adding additional tickets to other events in one transaction (even merchandising add-ons too!).
When you're at the checkout stage, type in the event add-on in the search bar. When the right one appears click on "Sell". You can then add the number of tickets the customer would like to the basket.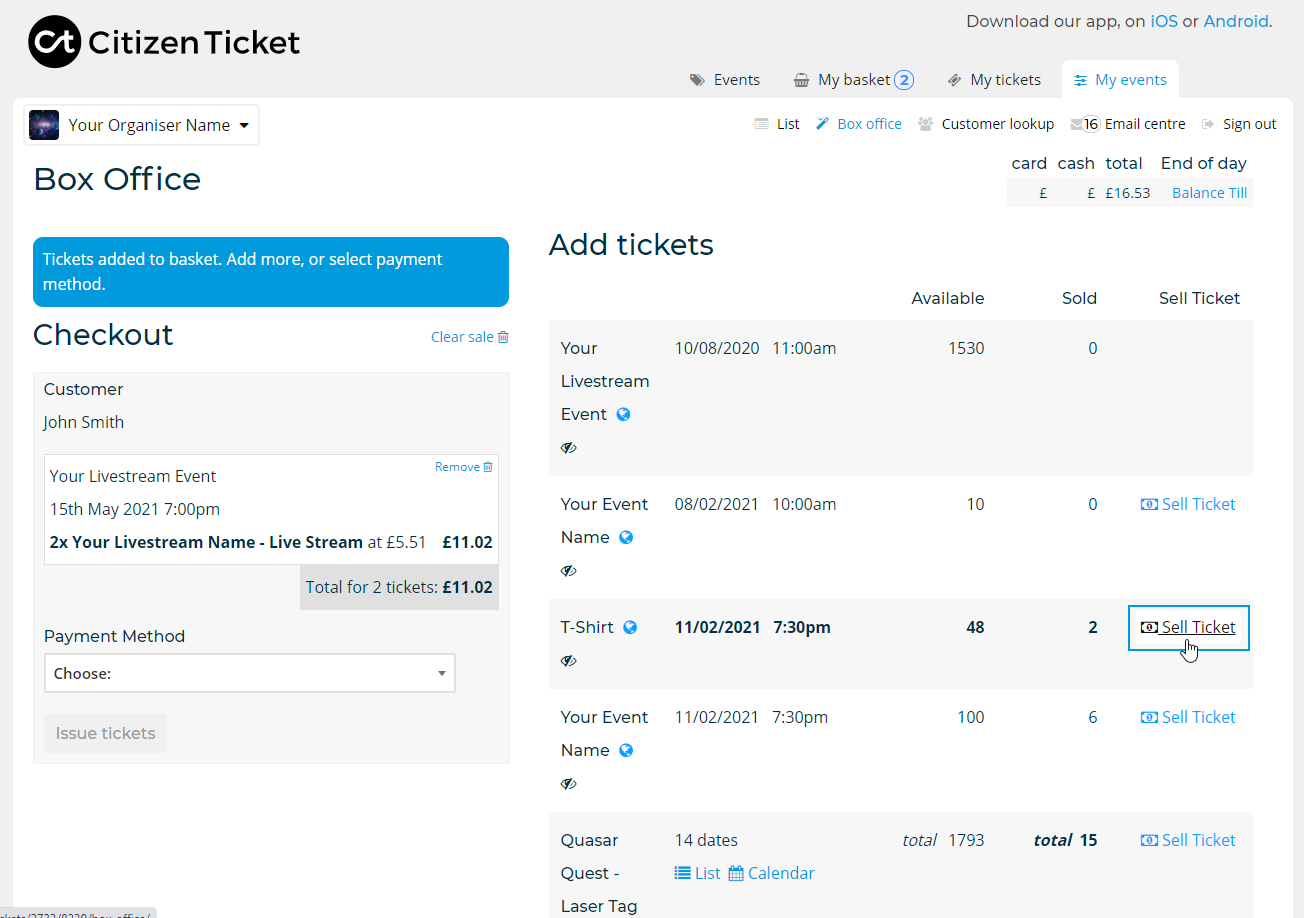 Another customer service offering that gives you a chance to upsell your events and further your ticket sales!
Complimentary Tickets
If it is a complimentary ticket you wish to issue, go through all the same steps to issue a ticket until you get to the checkout. In the payment method drop-down menu, you select "Complimentary" and "Issue ticket".
The Box Office suite makes ticket allocation as easy as it can be, helping you sell tickets and making sure your event fills out!
If you want to know a bit more about your Box Office, click here.
*For phone payments, you must be registered as PCI compliant.